Geographic Information Science
What's it all about? GIS, Geographic Information Systems, is just about the coolest software application out there! Do you want to use mapping and data collection skills to problem solve? Then GIS is for you!
GIS makes it easy to collect data and display it visually on maps. Using GIS makes it possible to consider geographic locations and features in their relation to other locations and features around them.
There are many different ways make maps using GIS. Below is an example of Story Mapping, an application provided by ESRI Online.
View the full Story Map here!
Why study GIS at SU?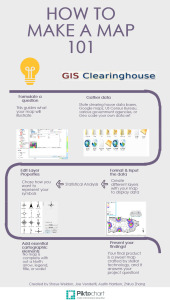 The Syracuse University Geography Department truly cares about their students. Therefore, internships are offered directly to Geo students every semester through Syracuse Community Geography. Students have the chance to work with  Associate Professor Dr. Jonnell Robinson and community based organizations, while gaining practical experience with geographic research methods, GIS, and spatial analysis. Students work on projects related to urban planning and policy, food justice, public health, and human-environment interactions. To find out more about the projects that Syracuse Community Geography works on, check out communitygeography.org!
Syracuse University's Geography program boasts up to date computer labs, with the latest GIS software. And to teach us how to use that software, we have and nationally recognized professors who specialize in GIS.
Upon graduation from the Syracuse University's Geography program, you will be enthralled with all the map-tastic possibilities of  GIS, and the plethora of jobs waiting for you and your freshly refined GIS skills.
We love maps!
 Click a map to flip through the gallery of maps created by SU Geography students!
What can you do with GIS?
GIS is where the jobs are!
Proficiency in GIS is the most tangible skill that SU Geography students graduate with! A myriad of companies and organizations are hiring graduates right out of school, since the need for GIS proficient employees is rapidly growing. Companies such as National Grid, National Geographic Society, local municipalities, city planning, and the United States Military all employ GIS specialists to complete a variety of jobs and projects, such as census evaluation, business planning and social justice work! 

List of Relevant Courses
Visit the SU Course Catalog for more info.
GEO 381 – Cartographic Design

GEO 383 – Geographic Information Systems

GEO 386 – Quantitative Geographic Analysis

GEO 400 – Geospatial Technology and Privacy

GEO 482 – Environmental Remote Sensing

GEO 500 – GIS and Hydrological Modeling

GEO 583 – Environmental GIS
Potential Careers
Urban Planner

Development Specialist

Humanitarian Affairs Specialist

Surveyor

Geo-intelligence Specialist

Environmental Specialist

Soil and Plant Specialist

Water Resources Specialist

Climatologist

Climate Change Analyst

Hazards Analyst

Real Estate Appraiser

Transportation Manager

Community Resource Specialist
and many other exciting careers!